Book your therapist
Thanks to ShapeMe's home osteopathy service you can receive osteopathic treatment with a certified professional wherever and whenever you wish.
You can count on a quick, practical and professional service: our osteopaths are active 7 days a week for 365 days a year; the reservation takes place online in a few minutes and can be done only 24 hours in advance.
You will receive a confirmation email when a professional accepts your request, after which you will not have to worry about anything else: an osteopath will reach you in the day and time you have indicated, with everything you need for a high-quality osteopathy session, as if you were in a professional practice.
In addition, by booking with ShapeMe you are sure to receive a treatment from a certified osteopath: we have carefully and individually selected all our collaborators, entering our network only therapists who have specific requirements related to certifications and previous experience.
The result is a high quality service, with 9.5 satisfied customers out of 10!
How to book a treatment with ShapeMe?
Book online
Choose the treatment of your choice and book on the site in just a few clicks
Certified Therapists, 7 days a week
You can count on individually certified and selected therapists, available every day, from 8am to 11pm
Receive the treatment at home
A certified therapist will reach you in the indicated place, taking everything you need with him, including the bed
Find out how the service works
With ShapeMe you can book online and receive your treatment at home (or wherever you want).
A certified osteopath will reach you bringing everything you need for treatment
Our osteopaths are active 7 days a week, from 8:00 to 23:00.
What are the benefits of osteopathy?
Osteopathy is a manual and holistic therapy that investigates the triggering causes of a disorder with the aim of rebalancing the organism through manipulations that stimulate self-healing processes. It is to be considered as a complementary discipline to classical medicine, since it focuses on the research of the health of the person and not only on the treatment of symptoms.
It is a therapy that proves useful at all ages, because it is effective as a support in the treatment, prevention of different pathologies or in maintaining an optimal state of health.Thanks to specific manual techniques, osteopath acts on the neuro-musculoskeletal, cranio-sacral and visceral apparatus: the goal is to make skeleton, muscles, ligaments and connective tissue work together in a harmonious way, bringing tangible benefits in all areas of the body.
How does osteopathy help you feel good?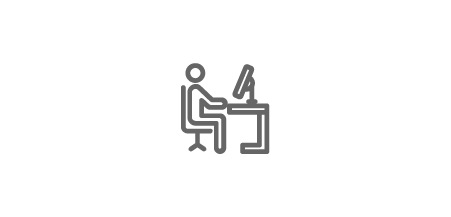 Corrects postural errors
With special manipulations it rebalances the body and improves posture.
Stimulates self-healing
Improves circulation and restores the functional and structural integrity of the body.
Restores mobility
It eliminates muscle and joint tension and gives mobility and energy.
Do you suffer from acidity or do you have stomach problems?
Osteopathy can be a valid solution to treat gastritis, reflux or other pathologies related to the stomach.
Its malfunction can in fact generate on muscles and skeleton tensions that give a feeling of blockage, burning and heaviness.
Manipulations of the gastric area can favor a good recovery of stomach mobility and its functionality.To investigate the causes of malaise and bring the patient into a state of health, osteopath can carry out manipulations on parts of the body not closely connected to the locations of the problem.
Do you often have a cold?
Repeated colds can slowly turn into chronic sinusitis that causes pain in the forehead.
Specifically, an inflammatory process is created that triggers the increase in mucus production, favoring the multiplication of viruses and bacteria.
To combat these diseases naturally without resorting to pharmacological therapies, osteopathy can be exploited, which acts on blood circulation and bone structure of the head and neck, aiming to definitively solve the problem
Do you feel a lowering of your immune defenses?
Our body lives by adapting continuously to stresses from the external environment that often create situations of physical and mental fatigue.
A fast-paced lifestyle, under conditions that are not always favorable, risks favoring the weakening of the musculoskeletal system and all other systems, creating a imbalance.
Once you have ascertained that there is no need to intervene surgically, you can resort to osteopathic treatment to restore your well-being.Thanks to osteopathy it is possible to identify and intervene on any disorders, through manual techniques, allowing the body to regain its own balance and state of health.
Do you have back problems?
Spine pain is a frequent disorder, so much so that it is estimated that 4 out of 5 people suffer from it in their lifetime.
Most people think that back pain is the result of trauma. In fact, there are many diseases that manifest themselves with the symptoms of back pain: abdominal pain, arthritis, tumors, dermatological problems.
Osteopathic treatment is an effective intervention to solve and prevent this type of problem since it acts on dysfunctions of the spine giving relief to those who suffer from it.
The cervical is an anatomical region, between the head and shoulders, subject to various problems and pains.
Cervicalgia significantly worsens the quality of life of those who suffer from it and is frequently associated with disorders such as nausea, headaches, dizziness. In most subjects suffering from cervicalgia, pain improves over a period of 6-12 weeks.
Osteopathic treatment reduces healing time, reassuring the subject and re-educating him through suggestions of ergonomic movements. The manipulations that osteopath uses are extremely sweet and never painful and every treatment is never the same as the next.
Do you suffer from anxiety and stress attacks?
Stress is a phenomenon that manifests itself as a psycho-physical tension that tends to compromise productivity and well-being. It presents various symptoms and in addition to physically damaging (with exhaustion, headaches, sleep disorders, nausea, immune calo), it also affects the psychic/behavioral sphere leading to anxiety, depressive syndromes up to drug abuse or the habit of improper nutrition.
Numerous studies show how osteopathic treatment is able to reduce cortisol levels in the blood (also called stress hormone) and allows to reactivate the vital forces of the human body, its intrinsic skills of self-healing, giving health and natural harmony.
Read about the experiences of those who have already tried ShapeMe
ShapeMe saves time and money. Osteopath reaches you at home so you won't waste time getting to the professional. It also saves costs and stress for transportation.All you have to do is book your moment of well-being in just a few clicks and wait for our operator to arrive
Bologna
Milano
Torino
Roma
Monza e Brianza
Varese
Brescia
Verona
Bergamo
Parma
Firenze
Reggio Emilia
Modena
Padova
Cuneo